I have an intact dog. That comment will incense many people and a near equal amount will wonder why I am admitting it like a confession. It is a confession of sorts. I have been a rescuer for more than fourteen years. I have been involved in shelter work for longer than that. Having an intact dog goes against everything I believe in.
The majority of people I am close to would have made the appointment for neutering the second that their dog turned the magic age of six months. Kenzo is about to turn nine months old. I agreed to wait until he was a year old to alter him and it has been suggested that I wait until he is two years old. Some days, I want to chuck my agreement in the garbage and call the vet for a same day appointment. Other days, I am sure I can wait. Most days I waver between the two.
The subject of neutering (early or at all!) is controversial in some circles and causes blood boiling on both sides. I asked about neutering large and giant breeds earlier than a year, on my personal Facebook page a few months ago. It turned into a war zone. I had to delete some comments and moderate others. I defended my desire to neuter now or at all, with those who insisted neutering was never a good idea while with others, I defended my reasons for not neutering yet. It was a thin line to walk, trying to stand my ground without making myself a target for either side.
Some readers will wonder what the big deal is, why wait you ask? Why ask for input at all, right? Well, for those who have not followed along closely, and for those who have and may not have realized, Kenzo is considered a giant breed. Giant breeds of dogs grow more slowly than even large breeds; which I have always had and neutered as early as possible. Growth plates are not closed until at minimum, eighteen months and in some cases, two years. How much difference can that make with regards to neutering? That remains to be seen. Hence my perfectly innocent and inquisitive Facebook question.
Questionable studies were thrown at me, anecdotal "evidence" was cited, veiled threats were made, insults were thrown and nothing was truly accomplished. When it all comes down to it, it's still my decision to make. I just have not made it yet.
How does this relate to multiple dogs? Trent, my eight year old neutered male Pit Bull is an insecure dog. He always has been. But until a little over a year ago, he had the most confident male dog in the world keeping him safe from the revolving door of foster dogs that came through this house. Of course, I am the one who has really kept him safe, but Trent adored Merlin and viewed him as his personal protector. Merlin is no longer here to protect him and now Trent is the "big brother" to a dog who has already eclipsed ninety pound Siri in size. Trent is a bit overwhelmed. Add the intact factor with Kenzo hitting the magic testosterone age of not quite nine months of age and you have a potential dilemma.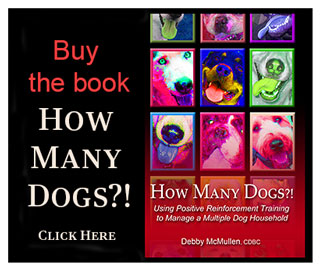 Kenzo is just starting to test his boundaries. The marking outside over Siri and Trent's urine has started, mostly in the yard but occasionally on walks as well. We have had two posturing/marking incidents in the house recently when Kenzo has felt the need to show that he had his big boy pants on; once with Siri and once with Trent. That got quickly redirected by yours truly, but the moment was still noted by Trent and that is what matters. And of course Siri just looks at Kenzo like he has lost his mind, so I'm not worried about her.
It has been obvious that Trent is more comfortable playing with Kenzo these days, which helps ease my mind. Siri is much more inclined to play with him that Trent though. She also feels more comfortable shutting him down immediately if he annoys her than Trent does. But I do my best to not place either of them in the position of having to do that. Many of these things are just puppy versus older dog issues but many more aren't. The differences between having an intact dog in the house compared to a neutered dog are glaringly obvious, at least to me, a behavior expert.
Aside from the extreme interest in Siri's urine that keeps his Jacobson Gland in overdrive, there is the instinct that drives him to pace their every pottying need. And of course, there is the wariness that all neutered males greet him with. He can't help any of this but it's still there. So my thoughts dwell on this test of time. Can I wait or should assured peace be claimed? The answer to that question remains to be seen. I will keep you posted.
In the meantime, feel free to add your POLITE thoughts on my quandary. Rudeness will not be tolerated, nor will name calling, etc. And keep in mind that Kenzo WILL be neutered. That is not up for discussion. The question is when. I have read everything I need to read on the subject, medically speaking. I am just looking for other's experiences with multiple males in the household, both neutered and intact, preferably also with a female in the home. Thanks for being understanding.