Actual text of the article:
Title:
Protecting An Older Dog From A Puppy's Advances.
by Susan Chaney
Two dogs can be twice the fun, twice the trouble, or both. The Donley family of Twinsburg, Ohio, discovered the mixture when in October, Cooper, a Cardigan Welsh Corgi puppy, joined the household, which includes Dutch, short for Duchess, a 12-year-old Labrador Retriever-Chow Chow mix. Here, trainer Debby McMullen, author of How Many Dogs?! Using Positive Reinforcement Training to Manage a Multiple Dog Household (Tanacacia Press, 2010), gives the Donleys some tips on helping Dutch cope with the energetic intruder.
THE DOGS
The Donleys adopted Dutch from a Cleveland animal shelter when she was about 6 months old. She is losing her hearing and may have arthritis. Staff members at the shelter told Nicki Donley that Dutch had a "rough early life" prior to her adoption. She was an only dog for 11 years. Cooper came from a breeder, and he's a happy, healthy, 6-month-old puppy.
THE SITUATION
Dutch has the run of the Donley home during the day, while Cooper stays in his crate. Nicki Donley goes home at lunchtime to rake them outside. The dogs go for rwo daily walks together and run loose on the house's acre lot when Donley can be outside with them. At night, Dutch sleeps on her own bed in the master bedroom and Cooper sleeps in his closed crate. Donley worries about Dutch because she isn't interested in Cooper at all. When Cooper goes near her, she gets up and walks away. "My concern is rbe puppy will not leave Duchess alone," Donley says. Occasionally Dutch chases Cooper as if to play. When they play-fight, Dutch barks at Cooper and sometimes growls.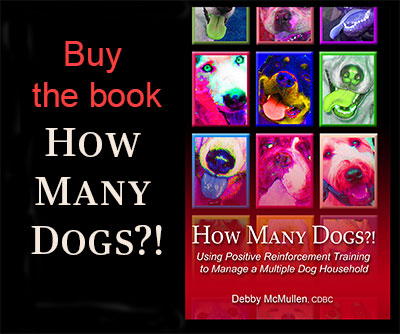 THE EXPERT
Debby McMullen is a member of the International Association of Animal Behavior Consultants and the Association of Pet Dog Trainers, and is an American Kennel Club Canine Good Citizen evaluator. She began training dogs in 1998, launching her own Pawsitive Reactions training school in Pirrsburgh in 2002.
THE PLAN
"Just because you have two dogs in a household, it doesn't mean they're going to be friends," McMullen says. "There's a huge age difference. Dutch is just not going to have the activity level of the puppy." In addition, she notes, "Chows just aren't all that interested in being playful and chummy with other dogs." Most important, according to McMullen, is for Dutch to know that Donley will keep her safe. The older dog needs to have a place where she can relax without being pestered. However, Dutch shouldn't lose any of her freedom or privileges, McMullen adds. To make this work, she recommends:
> Setting up a pen in the house's main living area where Cooper can entertain himself when no one's available to play with him.
> Putting Cooper in a room where he can run, play with toys, and have fun without picking at Dutch, when the puppy is most energetic.
>Redirecting Cooper to another activity when he wants Dutch to play and she isn't interested.
> Giving Cooper plenty of activity, even if that means a canine play group, puppy class, or well-structured, professionally staffed doggie daycare.
The Donleys are fortunate that Dutch is using avoidance to let Cooper know that she doesn't want to play, McMullen says, adding that the family needs to "take a lot of care so that the older dog doesn't have to discipline the puppy herself," intervening as much as necessary to let Dutch know that she is "still loved, still gets her privileges, and is protected from the puppy's advances." That way, Dutch can enjoy her remaining years and Cooper can take full advantage of his puppyhood, too.
SUSAN CHANEY is a freelance writer and editor in Southern Califomia. Her 8-year-old mixedbreed rescue, Max, is an only dog.