Debby McMullen's Story
My love affair with dogs started later than most dog lovers. I got my first dog at the age of twenty. I had shared my life with sweet Samantha for eleven wonderful years. Next came Layla, who graced me with five loving years. After that loss, I was determined to have more than one dog in my life at a time. That decision brought me first Merlin and he chose Kera. Kera chose Siri and circumstances brought us Trent. In between was Damon and a host of foster dogs.
So, when I found myself with more dogs than I had ever intended, I searched for information to help me manage my multiple dog household better than I seemed to be doing at the time. Although most of the information that I found was helpful, nothing addressed every question that I had. And I had many! It seemed that a new situation cropped up daily. Having more than one or two dogs in your household makes for a busier life! The questions that I had on this subject are the reason that I wrote this book. I lived this situation for many years in order to effectively find the best answers to my questions.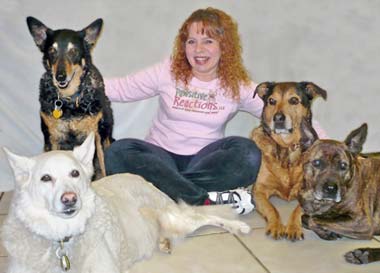 My training background helped me formulate the best options. This saves you the trouble of trial and error. I started my training interest when Layla was alive. I volunteered at a local shelter and walked the more unruly dogs every weekend. The trainers there noticed that I was able to handle the dogs that many other volunteers shied away from walking. They invited me to apprentice with their training program. I jumped at the chance. At that time, most trainers used a more old fashioned training style which was force based. I am what is now known as a cross over trainer. I went from force based training to the scientifically based positive training world. I never looked back. Knowing that it hurt a dog to jerk and pull them on a choke chain or hearing a scream from a dog when the pinch/prong collar did its job was too hard on me. I knew there had to be a better way so I found one.
Debby McMullen began training dogs and their owners in 1998 at the Animal Friends shelter in Pittsburgh, PA. In 2002 she started her dog training and behavior consulting business, Pawsitive Reactions, LLC. She is a founding member of the International Association of Animal Behavior Consultants (IAABC), a Certified Dog Behavior Consultant (CDBC), and a long time professional member of the Association of Pet Dog Trainers (APDT). A member of the Doberman Pinscher Club of America, she is also the founder and president of Damon's Den Doberman Rescue of Western PA. She lives with four personal dogs as well as a rotating crew of rescues and would have it no other way.