There are a few words in the world of dogs that will incite an eye roll in many a modern dog behavior professional. Pack is among them, as is dominant, alpha, command and in many cases, obedience. Faces twist, sighs are emitted and words form in our heads that we struggle to keep unuttered. While it's a frustrating feeling, taking the dog parenting public to task over these words is not helpful because they simply don't know any better. Professionals in the world of positive rewards based training, however, should know better and as the compelling words of Maya Angelou suggest, when you know better, do better.
For the dog parenting public at large, education is key but endless. It is a subject that screams exhaustion to every trainer who has to continually bring the facts to the forefront. I am sure that I am not alone in wishing for a way that I can educate a huge amount of people at once so I don't have to repeat myself so often I feel like a recording. I honestly don't think I will see an end to the need to educate on this subject in my lifetime. And that makes me feel tired.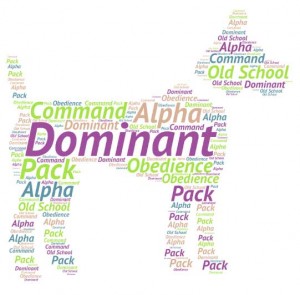 The unfortunate fact that a self proclaimed dog trainer in the national spotlight sadly uses many of these terms makes it harder to make them go away. After all, if they are on TV, they are accurate, right? Nope. Said trainer in the national spotlight has literally no formal education in dog behavior. Furthermore, he failed a test for such in Germany when it was required for him to be able handle dogs in his show that had a tour stop in that country. A full education in dog behavior would erase those terms from the language of dog trainers when discussing the dogs they are attempting to help or even when referencing their own dogs.
I am sure that there are some people who although educated in this subject, simply stick to the words that they have always used. There cannot be any harm in that, can there? Yes, there actually can and is harm in that habit. Words decide how you feel about a subject. Words have great power. Words have strong associations that cannot be easily changed. Some words have been so poisoned with inappropriate meanings that they are better off left behind. Words that conjure a feeling that is no longer applicable, can and do give the wrong impression to those who know less on the subject, but are sponges looking to take in information. Making better and more modern choices with your words will create a kinder future for all dogs.
For example, dogs are not pack animals. That has been determined for many years now yet the number of people who still call their multiple dog household a pack is truly alarming. You are not a pack leader, you are a dog parent. You can also be the dog owner if you prefer a less relationship based term. The relationship that a dog parent/owner should aspire to is however similar to parenting. I have written at length on this subject so instead of reinventing the wheel, I give you links to previous works on that particular subject as well as a compelling study.
Parenting your dogs.
http://www.howmanydogs.com/2013/10/executive-decisions-why-do-you-have-to-parent-your-crew/
Dogs are not pack animals
New York Times: The Big Search to Find Out Where Dogs Come From
What is a leader.
http://www.howmanydogs.com/2012/03/leader-of-the-pack-there-are-leaders-and-then-there-are-leaders/
http://www.howmanydogs.com/2014/01/the-elephant-in-the-room-leadership-in-the-multiple-dog-household/
If you by some chance had a group of dogs trained to hunt together en masse, then you could technically refer to them as a pack when they are doing what they trained for. That is the only dictionary definition of the word pack that applies to dogs at all. Otherwise, choose a more accurate term. If you read my book, then you know that my preferred term is crew, as in crew member. We are all in this together and we all have a say. We work as a team. Family works as well. After all, that is what you consider them to be, correct?
As for the dominance debate, I have also addressed that before as well. It would again be a waste of time to rewrite the facts. You can read more on this subject here.
http://www.howmanydogs.com/2013/02/dominance-redux-words-and-consequences-aagain/
The term alpha is very much in the same category as dominance. However, far more people use that term than dominance simply because it's just so sadly ingrained in the culture of dogs. But we are well past time to toss it to the curb with the others. It's meaningless. Again, you are not an alpha, anymore than you are a pack leader. You are a parent/owner/team leader. Chose whatever compassionate and kind term you that most resonates with you. But you are NOT an alpha. There are no alphas in the dog world. More on that subject below.
http://www.whole-dog-journal.com/issues/14_12/features/Alpha-Dogs_20416-1.html
Another word that is still in use by some is the word command. I don't know about you, but I don't personally want a relationship with my dogs that involves commanding them to do anything. I call the term I use to signal my dogs to utilize a behavior, a cue. More on the inappropriate use of this word below.
http://www.howmanydogs.com/2012/11/command-performance-do-words-have-consequences/
And finally, the word that is very likely in use most frequently among even the most educated rewards based trainers is the term obedience. Unless you are actually competing in Obedience trials and are using that term to describe that activity, then toss this word aside PLEASE. Similar to the term command, obedience implies servitude. I don't want a relationship based on servitude with anyone, especially my beloved dogs. I do, however, want my dogs to have manners so that is what I call them. Furthermore, when done correctly, you don't have to use cues once manners are taught because you will have taught your dogs to make good choices about life's moments. What could be easier than that? Imagine, not having to continually tell your dog what to do! More on this subject below.
http://www.howmanydogs.com/2011/09/to-cue-or-not-to-cue-manners-in-the-multiple-dog-household/
So let's lead by example and toss antiquated terms to the curb. Choose words with their meaning based in the relationship centered world of modern dog behavior knowledge. Your dogs will thank you and you will leave a path of more knowledgeable and kinder-to-their-dogs people that you have influenced by your actions. Feel free to take the spaces below to tell me how you have moved beyond these old school terms.